Learn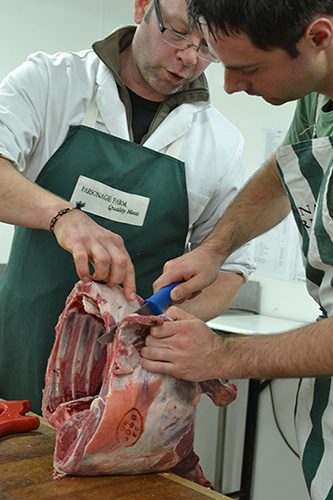 Workshops and courses run on a small working farm in an idyllic part of Hampshire, only an hour from London. We offer a range of courses and workshops with experienced tutors, masters of their crafts, where you can relax, enjoy and learn.
All our courses have small numbers to enable individual attention and are held on mid-week evenings or at weekends. Bespoke courses can also be arranged.
We aim to help you learn whilst having fun, so courses start with coffee and homemade cake! Lunch is provided on whole day workshops.
We try to arrange our workshops at times to suit you if these dates don't work for you. Please call or This email address is being protected from spambots. You need JavaScript enabled to view it. to discuss alternatives.
Proper Sausage Workshop
Learn how to make your own sausages, mix seasonings and make a batch to take home. You choose the seasoning, taste the flavour and make the sausages, learning how to link them too.
This course is suitable for children over 5 accompanied by an adult. Groups are welcome, weekend or evening courses. Coffee and home-made cake provided.
£65 (minimum 3 hours).
Charcuterie Workshop
A full day course of Pork Butchery and Charcuterie. After seeing the pigs our Master butcher starts the workshop with a demonstration and plenty of hands on opportunities to learn how to prepare a pork carcass for making a wide selection of cured meats. The second part of the day is a practical session making a range of charcuterie including, curing bacon, chorizo, salami, air dried pork etc. Lunch and coffee is included, you take home cured meats you have prepared during the day and have an opportunity to buy more
£155 10am - 4pm
Numbers are limited to 6
Charcuterie Cure-Your-Own Workshop
A half day workshop on the curing process. The workshop will be a practical session making bacon, chorizo, salami and preparing and curing meat for air drying. Take home your produce to amaze your friends. There's time to see the pigs, salami and cured meats drying and plenty of opportunity to try some too. The day starts at 10 with coffee and home-made cake.
We like to keep the course numbers small so everyone gets a chance to have a go and there's opportunities to ask all those burning questions.
£79 10am - 1pm
Salami making Workshop
Learn the processes involved in making salami. Have a go at making some yourself, from preparation of the meat, seasoning, through mixing and skin stuffing to tying. There will be opportunity to try some Parsonage Farm salami.
You can take the salami home to dry or leave it here to collect later. Tea/coffee and homemade cakes are supplied.
3 hours, £75
Day or evening courses, numbers limited to 6 per course.
For lamb or pork workshops, please see the website of our highly-skilled butcher Mike who runs his own courses
Workshop Dates
Open date gift vouchers are available, please contact Sarah for details
Charcuterie Workshops (all day)
March 4th (Sunday) - 10am to 4pm (now FULL)
April 29th (Sunday) - 10am to 4pm (4 places left)
Charcuterie Cure-Your-Own Workshops
February 18th (Sunday) - 10am to 1:30pm (now FULL)
March 3rd (Saturday) - 10am to 1:30pm (places available)
April 14th (Saturday) - 2:15pm to 5:45pm (places available)
Salami Making Workshop
February 3rd (Saturday) - 2pm to 5pm (4 places left)
Sausage Making
February 14th (Wednesday) - 10am to 1pm (now FULL)
February 17th (Saturday) - 10am to 1pm (now FULL)
February 17th (Saturday) - 2pm to 5pm (now FULL)
February 28th (Wednesday) - 10am to 1pm (places available)
April 14th (Saturday) - 10am to 1pm (places available)
May 13th (Sunday) - 10am to 1pm (places available)
Further dates will be added soon. Vouchers can be purchased as gifts or for future workshops - please email us on the address below.
What people are saying...
"I have found it intriguing seeing it go from a whole animal to the different cuts. It's been eye-opening and I've realised that it's about knowing how to prepare each cut so you get the most from the meat. The atmosphere of the class has been great too."
"The Salami Making Course you put us through on the 15th of April was a model of how such courses should be run. Your welcome, the introduction and the preparation were spot on and the fact we were allowed, indeed expected, to do everything ourselves was just what we wanted. A neat point was that you encouraged us to taste a number of salamis so that we might choose the herb and spice recipe that we would use. As a result we didn't choose our favourite taste (we can buy that any time) but chose something based on fennel that we thought was novel, interesting and experimental – at least for us!
The following mincing, mixing and filling of various animal intestines took us into areas that customers know little of, and the explanation of the curing process in your cabinets by Mr Mills filled out those interesting technical aspects that are normally thought to be of little interest to the consumer. But for us they completed a full and absorbing morning.Truly, it was an education – perhaps your past role as a teacher helped! And that we have got our produce at home enables us to show them proudly to others and bore them rigid with our exploits!"