Welcome to Parsonage Farm, a small family-run farm in the beautiful northern Hampshire countryside.
Parsonage Farm is changing!
Parsonage Farm is continuing on its journey and becoming Parsonage Farm Charcuterie. We (Sarah and John) took over Parsonage Farm 20 years ago and built a successful charcuterie business, now it's at the right stage for development and for us to have some time for all the things we've put on hold (restoring classic cars to name one!)
Parsonage Farm Charcuterie will be in very safe hands, still remaining an individual, personally run business, ensuring quality, environmentally aware, high welfare local produce. We've got know Dave and admire his passion for food and commitment to high quality local produce, we feel honoured to know that someone of his calibre wishes to use continue our work.
We have had enormous fun meeting so many fascinating people and made some great friends and I'm sure we'll still be around on the event circuit in some form or other, probably helping out other food producers!
We'd like to thank everyone who has supported us over the years, we couldn't have done it without you. We hope you will continue to support Parsonage Farm Charcuterie and enjoy well grown, local, healthy produce.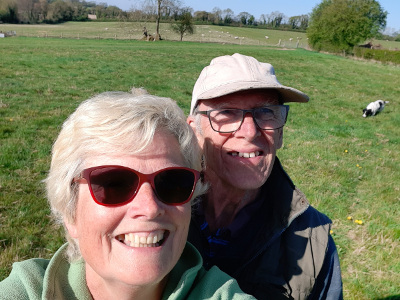 Goodbye from us!
------------------------------------------------------------------------------------------------------------------------------------------
Hello

I'm Dave from The Crown Inn, just around the corner from Sarah and John. I'll be taking over the reins of the wonderful work, product and Great British small business that has already been built up. I am a big foodie, it's not just my passion, it's my love, my life, my hobby and my career. So having the chance to continue on from all Sarah and John's hard work couldn't be more exciting but also such a privilege.

I have enormous passion for ingredients, where they come from, how they are raised, grown and looked after and this story flows into how much I care about what we will be continuing to do with the Charcuterie that we will be producing. Even though currently we won't be farming our own pigs as Sarah and John did, we will be buying animals with the same values, care, welfare and passion that go into them. My best friends at Yellowdoor cottage (a small holding in Shurton just outside Bridgewater) will be supplying us with animals as will Tina at Oaktrack just up the hill over towards Charlton Down near Andover.

My good friend Paul will be joining me on this journey and he is just as passionate about the product and how we continue to create and develop the wonderful cured meats that started this journey with Sarah and John.

Please keep an eye out for tasty updates on our website www.parsonagefarmcharcuterie.com and Instagram @parsonagefarmcharcuterie as we resume production and also when our products will become available. Paul and I look forward to meeting you at markets and events in the near future.